hairpray.
I'm about to show my age here.
I use hairspray.
I know young girls don't use hairspray, but I'll go ahead and say it, I'm not a young girl.
I need my hair - even if I'm trying to make it look messy - to stay in place.

Now, let's talk texture.
I probably didn't even start using conditioner until about 15 years ago.
The last thing I wanted in my teenage years, was anything that might add moisture to my hair.
After I had children my hair it was a different story. My hair started to gradually become dry. .....and it's just gotten worse. In the last 24 months, I'd say "straw" is an accurate descriptor.
My legit hair girl (who also happens to be my adorable daughter-in-law) told me
that hairspray could be contributing to the dryness.
WHAT??! I mean, it's absolutely out of the question for me to stop using it altogether.

I don't want my hair to look like a football helmet, but I need a little hold, people.
So I started researching and found that Chi makes a Keratin infused spray.
This stuff is magic. My hair sure isn't dripping with hydration, but it also doesn't look
like it's about to break off either. I'm pleasantly surprised that there's something out there with flexible hold that doesn't make my hair look like it could go up in flames if I go near a spark.
If you're struggling in the dry hair department, check this stuff out. I'm a believer.
xx m-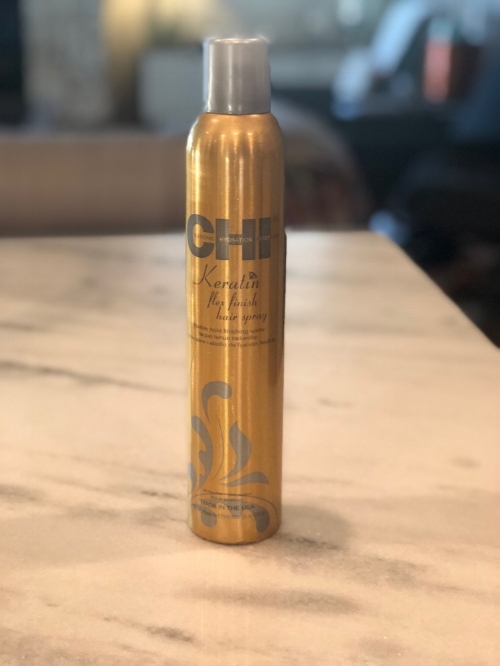 Here it is, folks. Magic in a can.